PRIME Review Center is the ONLY Mechanical Engineering Review Center:

1. that adopts a computerized PRC-based-system
2. that uses multimedia in its classes
3. that has a lineup of highly qualified reviewers from the academe and industry
4. that introduces systematic types of exams
5. that is consistent in producing Board Exam Topnotchers
6. that maintains highest passing percentage every board exam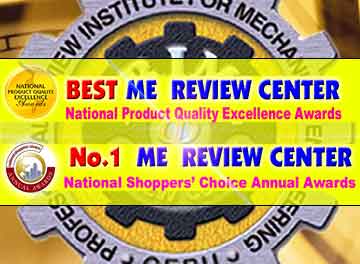 Because of these, PRIME achieved what no other ME Review Center had accomplished or even come close, and that is, being the FIRST and the ONLY awardee of the Best ME Review Center National Excellence Awards. From the pool of highly-recognized ME review centers across the country, PRIME stood out from the rest.

The above award did not stop PRIME Review Center from shining. It also has outshone its competition by bagging the prestigious National Shopper's Choice Awards as the No. 1 ME Review Center.

What others failed to attain in decades, PRIME easily achieved in just a couple of years. PRIME attained the excellence and status as the best, the no. 1, and the undisputed Mechanical Engineering review center in the Philippines.

PRIME's performance speaks louder than words!